Conagra Brands Ice Skating Rink
Friday, December 9 through Monday, January 2, 2017
NEW LOCATION on 10th & Capitol Ave.
Learn More
Hours:
Opening Ceremony: Friday, December 9 at 6 pm
Sunday – Thursday: 1 – 10 pm
Friday & Saturday: 1 pm – midnight
Christmas Eve & New Year's Eve: 1 – 5 pm
Closed Christmas & New Year's Day
A $5 admission includes skate rental (admission is still required for patrons who bring their own skates) and benefits Food Bank for the Heartland. Kids under 5 skate free.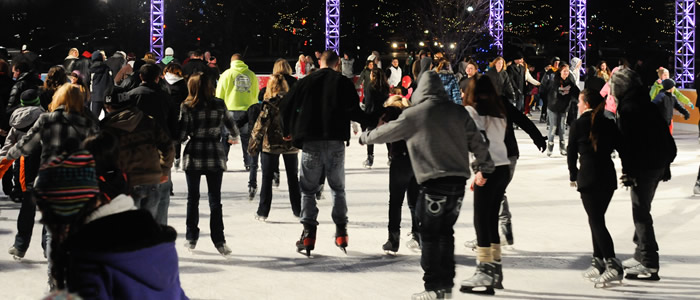 Please note: All skaters must sign a liability waiver in the admission tent before ice skating at the Conagra Brands Ice Rink. Skaters under the age of 19 must bring a waiver signed by a parent or guardian on their behalf. Waivers can be downloaded here after December 9.
About the Rink
As sponsor of the ice rink, Conagra Brands will construct a temporary ice skating rink off 10th Street between Dodge and Capitol Streets. The ice skating rink is artificially chilled in order to keep it frozen even on the most pleasant of winter days.
The community is invited to enjoy a special Skating Extravaganza at the ice rink featuring skaters from the Blade and Edge Figure Skating Club on Saturday, December 17 at 3 p.m. The 30-minute performances is free of charge, with a requested admission of a nonperishable food item donation to the Shine the Light on Hunger campaign. Public skating will be temporarily closed during this performance. Event is subject to change.
Recommended Parking
Heartland Park surface lot at 800 Douglas St. with three hours of free parking
Upper level of Park 3, located on Farnam Street between 9th and 10th Streets  for 50 cents per hour
'The Soup Lot' south of Capitol Ave. between 11th and 12th Streets open to the public beginning at 5pm with an hourly rate
Conagra Brands parking lot off 10th Street and Conagra Drive
Metered street parking is available throughout the downtown area
Visit parkomaha.com for additional information.
Lost and Found/ Questions
Please call the Downtown Omaha Inc. office at 402-341-3700.
Shine the Light on Hunger
One hundred percent of the proceeds from the rink are donated to the Food Bank for the Heartland as part of the "Shine the Light on Hunger" campaign, a significant component of the Holiday Lights Festival. The Conagra Brands Foundation will match ice rink donations dollar-for-dollar up to $100,000. For every $1 donated, the Food Bank for the Heartland can distribute three meals to those in need.
Look for Shine the Light collection bins at the ice rink. Your nonperishable food item donations will be distributed to families in need by Food Bank for the Heartland.
For more information on the Conagra Brands Ice Rink and other ways you can help "Shine the Light on Hunger" click here.