New Year's Eve Fireworks Spectacular
Friday, December 31, 2021 | 7 p.m.
LAUNCH AND VIEWING LOCATION near CHI Health Event Center & TD Ameritrade Park (near 10th & Cass Street).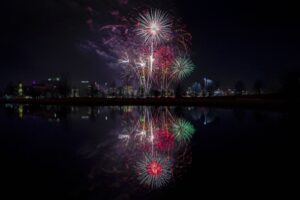 For the last signature event of the Holiday Lights Festival, enjoy the spectacular firework show in the warmth and safety of your vehicle or home!
The fireworks will be launched from Parking Lot D (no public parking) of the CHI Health Event Center. Arrive early and park for FREE to view the up-close show in the recommended viewing areas listed below. In addition, all Downtown Omaha parking meters will be free after 5 p.m. on December 31, courtesy of Park Omaha.
Produced by J&M Displays, each shell is choreographed to open on cue to a musical score developed specifically for this event. Spectators are encouraged to tune in to STAR 104.5 in the warmth and safety of their vehicle or home to celebrate a musical accompaniment celebrating the good times we spend together. This incredible show will fill the sky with bursts of color – join us as we ring in the new year safely with this dazzling display!
Arrive early for FREE parking to view the show in the recommended viewing areas:
Festival de luces navideñas: Espectáculo de fuegos artificiales en víspera de año nuevo
Vierns 31 de diciembre | 7 p.m.
Ubicación y presentación
Cerca de CHI Health Center y TD Ameritrade Park
¡Vea la espectacular presentación de fuegos artificiales en la calidez y seguridad de su vehículo! Habrá estacionamiento disponible y gratuito en MECA Lotes A, B y C (cerca del CHI Health Center) y del estacionamiento en el Lote de Gallup (1001 Gallup Drive); los lotes abren a las 6 p.m. Este increíble espectáculo llenará el cielo con explosiones de color coreografiadas para explotar en el momento justo con una partitura musical única, celebrando los buenos momentos que pasamos juntos. ¡Sintonice la emisora STAR 104.5 para escuchar la música!